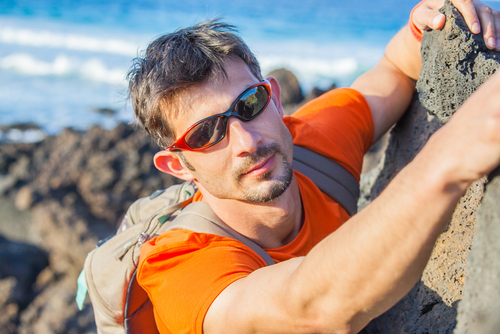 Shooting lenses can be made to your specifications but often include a yellow tint to increase contrast and to help your target "pop" in your sights.
Fishing lenses are typically polarized lenses and can be either single vision or can be made with a bifocal if you need a little extra help tying those knots. Typically brown lenses are recommended for river or shallow water fishing while grey is a better choice for deeper water.
Motorcycling requires a frame that will help seal your orbits against wind and debris. If appropriate for your prescription a frame that curves along the contours of your face is ideal. Many of these frames will also include a removable gasket to offer you an additional layer of protection.
Different bikers have different ideas of what will make their ride easier but many times a Transitions lens works well because they will adapt to the light that is available. During a sunny day, they will provide some relief from the brightness and you can ride on into the evening and night without stopping to change your eyewear because the lenses will lighten up to clear as the sunsets.
Tennis balls are made much easier to track in average lighting by using a bright blue tint. Smart lenses like Transitions SolFX are also great for avid players because they will adjust in darkness according to the available light.
Basketball, racquetball, soccer, hockey, baseball, and football eyewear can offer protection while allowing the athlete to see clearly. A wide variety of durable plastic frames with straps are available to help keep them up even during the most rugged play. Impact-resistant lenses are also a must. Many patients will also choose to add a glare-free treatment to eliminate bothersome glare and to aid in durability. Adding Transitions lenses to sports glasses may also help outdoor sports enthusiasts like soccer and baseball players by reducing the need to squint in bright sunlight. Anti-fog lenses are also a favorite choice of many hockey players.
Golfers all have their own idea of what makes the ideal golf lens, but experience has shown us that many benefit from lenses that change according to the lighting available. Especially in Minnesota, the weather can change in the blink of an eye.
"Smart" lenses like Neox SolFX or Definity Fairway will automatically get darkest when the sun is brightest and then lighten up as the clouds roll in. For those of us who will also need a little help filling out the scorecard, the Definity progressive has a unique feature that allows the bottom of the lens to focus on your golf ball thus making it easier to look down while teeing up.
Skiing or snowboarding lenses can be polarized to eliminate glare off snow although a tinted lens may be safer for serious skiers as the glare will make reading the slope in front of you easier.
Swim goggles can be ordered in nearly any prescription for children or adults.
Another great option for active individuals is contact lenses. See our section about contact lenses.