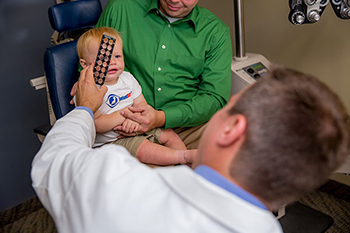 Many vision problems are best treated in childhood. Early routine eye exams assure that your child's vision is developing normally. Coordination, concentration, and balance are just a few of the visually integrated abilities that promote healthy physical development throughout childhood.
The American Optometric Association recommends all children have their first eye exam between 6 months and 1 year of age through the InfantSEE program. If no problems were detected at that time, the AOA recommends an exam at 3 years of age, at 5 years of age (before entering kindergarten), and then annually throughout a child's school years. Parents' commitment to regular eye exams increases the likelihood of catching vision problems early.
Infant Vision
Infants are not born with perfect vision. Vision develops as your little one grows. However, if your child's vision does not develop properly it can lead to behavioral problems and interfere with the overall development. Several of our doctors are part of a nationwide program, sponsored by the American Optometric Association and Johnson & Johnson, which provides NO COST VISION ASSESSMENTS for infants (6-12 mos.). If your infant has not yet had an eye exam, please call and ask for the InfantSEE® assessment.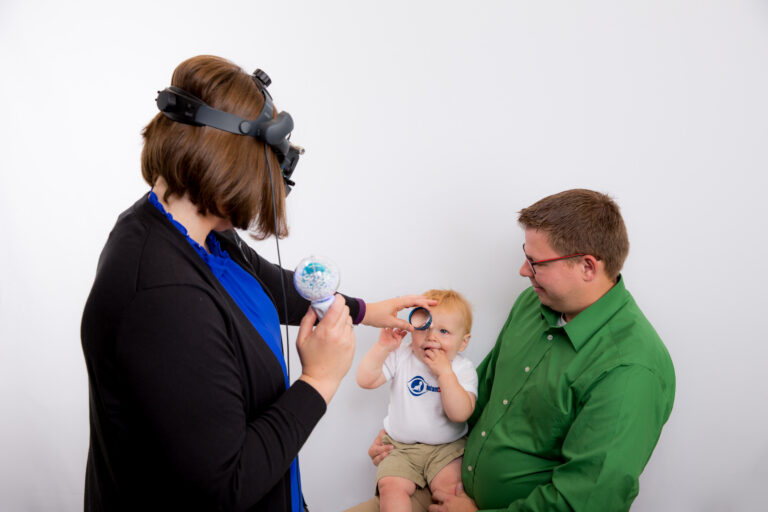 InfantSEE Exams
From birth, babies begin exploring the wonders in the world with their eyes. Even before they learn to reach and grab with their hands or crawl and sit-up, their eyes are providing information and stimulation important for their development. Healthy eyes and good vision play a critical role in how infants and children learn to see. Eye and vision problems in infants can cause developmental delays. It is important to detect conditions early to ensure babies have the opportunity to develop the visual abilities they need to grow and learn.
InfantSEE®, a public health program, managed by Optometry Cares® -The AOA Foundation, is designed to ensure that eye and vision care becomes an essential part of infant wellness care to improve a child's quality of life. Under this program, participating doctors of optometry provide a comprehensive infant eye assessment between 6 and 12 months of age free of charge regardless of family income or access to insurance coverage. See InfantSEE: A Public Health Program for Infants | Helping Infants to Establish a Lifetime of Healthy Vision for more details.
Several of our doctors are InfantSEE providers and enjoy helping your child with their first eye exam at 6-12 months of age, free of charge. Call to schedule and InfantSEE appointment with one of our InfantSEE participating doctors today.
To schedule your no charge InfantSEE® appointment – call the office at 763-757-7000.