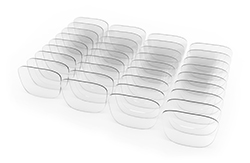 Standard plastic lenses or CR-39 are a lightweight and inexpensive option for very modest prescriptions only. As long as a high-quality glare-free treatment is also applied, they can be quite scratch resistant and durable. This is not an appropriate lens material for higher prescriptions or for those needing an impact resistant lens.
Polycarbonate lenses are the most commonly used in our industry. On the plus side, they are lighter weight than plastic, have built-in UV protection and are very impact resistant. The downside to this lens material is that the optics are not as sharp. The Blaine Eye Clinic strongly discourages the use of polycarbonate in most situations because we know how important it is to you that you see well out of your new glasses.
Trivex lenses are a good alternative to polycarbonate lenses. Trivex is just as impact resistant, has excellent UV protection while maintaining a thinner and lighter weight just like polycarbonate lenses. The most important difference, however, is that Trivex lenses provide better visual clarity. It is an ideal lens material choice for mild prescriptions in rimless frames, children's glasses, and safety lenses.
High index plastic lenses are specifically used for higher prescriptions to make the lenses thinner, flatter, and lighter weight. There are different levels of high-index to choose from, but the good news is that an optician will be able to guide you to the one that will make your new eyewear look and feel as good as possible. And yes… we do sell the thinnest lenses that are made!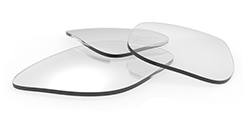 Glass lenses used to be the only material available. In today's age of technology, their place in optical has become very limited. The newer plastic lens technologies offer much safer choices that are quite durable as well. In most cases, Blaine Eye Clinic strongly discourages the use of glass lenses.