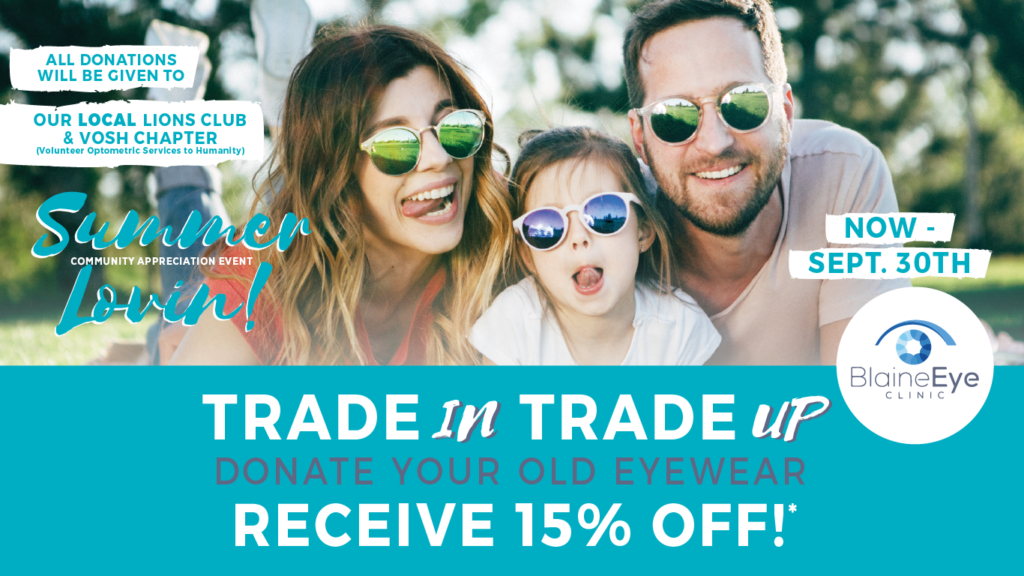 Summer Lovin, community appreciation event now through
September 30th at Blaine Eye Clinic!
When you trade-in your old pair of eyewear, you'll receive 15% off a new complete pair of glasses. Now for a limited time, trade in your old frames for an upgrade on style!
Plus, all donations will be donated to our local Lions Club and VOSH chapters (Volunteer Optometric Services to Humanity).
Schedule Your Appointment Today! 
To learn more about VOSH visit vosh.org
To learn more about Lions Club Eyeglasses Recycling Center visit mnlerc.org
Give the Gift of Clear Sight, Why Donate Your Old Eyeglasses?
Globally, one child in four cannot see well enough to learn to read without eyeglasses.
By age 40, 90% of adults experience a decrease in their ability to read print and need eyeglasses.
Many emerging countries lack the resources to manufacture quality lenses, and the cost of importing eyeglasses is far beyond the means of the average citizen.
Millions fail to reach their economic, educational, and social potential without access to quality eyeglasses.
The World Health Organization estimates that the eyesight of one-fourth of the world's population can be improved through the use of corrective lenses.
Unfortunately, for many a pair of glasses is both unaffordable and inaccessible. In developing countries, an eye exam costs as much as one month's wages, and a single doctor may serve a community of hundreds of thousands of people.