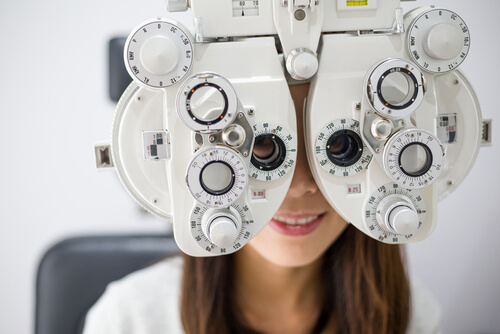 Your comprehensive eye health examination at Blaine Eye Clinic will be thorough and as comfortable as possible. We know how important your vision is to you. Here is a list of what you can expect at your upcoming vision care appointment.
Why so many questions?
Most people don't realize it, but the eyes are actually very sensitive to your general health. Because of this, a complete health history will be taken. It is important for your eye doctor to know which diseases you have or have had because many of them can impact your eyes. Medications also can play a large role. Family history is very important, too, as many of the eye diseases, i.e, cataracts, macular degeneration, and glaucoma are hereditary.
When can I see the doctor?
The pretesting is done first and is very important. One of our optometric technicians will help gather information for the doctor, including measurements like computerized autorefraction, peripheral vision screening, visual acuities, and blood pressure.
"Better one or better two?"
This test allows the doctor to customize your glasses prescription. Some patients worry they may give the incorrect answer, but rest assured, the computer helps with this process and the doctor double checks you many times. The doctor will measure your eye pressure with a painless blue light. This helps the doctor in determining if you are at risk for the eye disease called glaucoma.
Do I really need those dilating drops?
Yes, it is important for your pupils to be dilated. The doctor will use a microscope and other lights and lenses to painlessly evaluate the internal and external health of your eyes. They will be able to detect eye diseases such as cataracts, glaucoma, macular degeneration, and diabetic retinopathy. You may wish to bring a driver and your own sunglasses. Often, reversal drops can also be utilized to speed up the process of allowing you to return to work or home earlier.